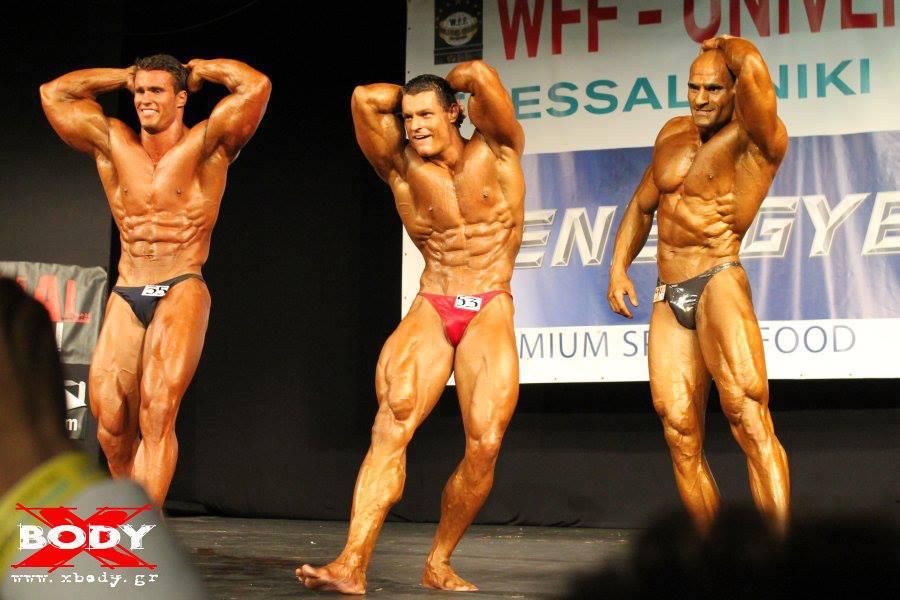 Klaus won the title of WFF Mr. Universe 2013!
By winning the Mr. Universe title of the WFF in the Superbody up to 35 years category and the overall competition last saturday, Klaus not only brought this competition year to a fantastic closure but also finally got awarded and acknowledged for the last seven years of hard work.
Saturday, 15th of June 2013, Thessaloniki, Greece. Self confident like always Klaus steps on the stage of the Radio City Theater and joins the other four athlets of the superbody up to 35 years category. A look to the left, a look to the right – strong competition.
Posing starts – the mandatory poses are up first, closely inspected by the jury members, followed by the posing routine. Klaus does a great job, presenting his trademark spots matching the rythm of the music. One thing is sure: Klaus has a lot of fun, leaving the stage with a broad smile on his face. Now it's time to wait till the other categories are done.
Shortly after midnight Klaus is back on stage for the award ceremony. Place 3 goes to the strong Serbian Savic Milan. Klaus is seeking eye contact with his girl friend showing his typically "not-bad" nod – at least place 2! Then Klaus is a little confused because the moderator is talking in Greek, right before putting number 94 on the second place. Klaus glances on the number written on his opponents label, then confusion turns slowly into hapiness: Klaus is WFF Mr. Universe 2013!
But thats not all – as winner of the Superbody up to 35 years category, Klaus competes against the winner of the Superbody over 35 years category Baritakis Emmanouil from Greece.
Mandatory poses again, then the decision of the jury is clear: Overall winner of the WFF Universe 2013 Superbody category is Klaus Drescher from Austria.
"Unbelievable. This is madness. Simply beyond words.", Klaus summarizes his feelings after the competition is over.
Now it's time for holidays and recovery, then trainig for the next competition season starts again. Motivation? Check!